The ROPO effect, the Holy Grail of Retailers!
The ROPO effect, Online Research & Online Purchase  is booming. That is what statistics say. In Spain consumers who research a product online and then purchase at retail outlets now represents 34% according to comScore.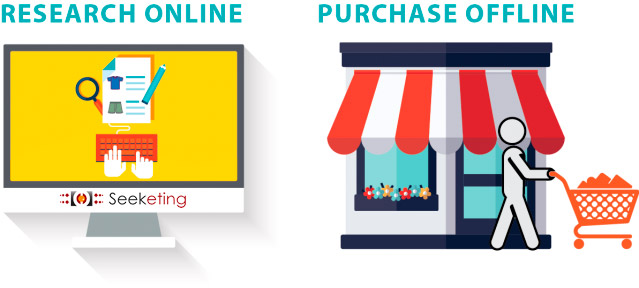 Understanding the needs of consumers is written in the basic rules of Marketing. More difficult was to create the user experience in stores until the arrival of analytics to retailers.
As mentioned in the article Comparison Seeketing vs iBeacons, Seeketing helps companies create that user experience: identifies and measures its customers offline behavior. This makes advertising campaigns to be segmented in a not previously known limits in physical locations.
Let us see with an example:
A 35 year old woman comes to the babies area in children´s floor of El Corte Inglés and spends an average of 20 minutes in the same area. Automatically Seekegint Nodes using WeObserve service identify this woman through her smartphone (regardless of the brand of the cell), and measured their behavior.
1.The nodes know whether she came for the first time to the center or is a visitor who has already come before.
2.They know what zone or door she is coming from. It means that  nodes are able to analyze  flows between areas. 
3.Get the average times she was in the babies area.
From these data, the  WeOptimize service  segment this 35 years old woman for her behaviour in the store.
From the Marketing Department, El Corte Ingles has in its CRM identified this woman and the next time you come to the center, women will receive information or advertising on her mobile as Push Notification.
It is a win-win. The Marketing Department wins because it throws more efficient campaigns and  will get better ROI  and by the other hand the consumer wins too in the end, it is what all companies is looking for: win & win relationship.